Photographic Services
Fun Photos
Photo Shoots on site or "In Studio"
Photo Booth - Customized Mobile Studio
Portfolios for Models & Make Up Artists - Hair Stylists
Portraits of People & Pets - Props & Effects
Casual Wedding & Party Photos
Corporate Events & Functions
Commercial Photography for Advertising & Websites
Slide Shows (with music) to DVD & or You Tube
Enlargements / Prints Framed / Canvas Print
Photos / Documents Scanning (From $1 ea)
Images on USB/SD/CD/DVD (From $20)
Albums / Life Books / Calendars / Digital Slide Shows (From $50)
Digital Photo Frames Supplied & Installed with your Slide Show
DVD Slide Show "Movies" - with Music (From $50)
Digital Enhancement - Photo Shopping etc (firm quotes provided)
Documentary Photography and Photo Journalism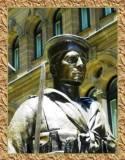 Peter Fitzpatrick undertakes commissioned and free lance projects documenting people, places and events throughout Australia.
Peter has published and presented Books and Photo Films documenting individual's and group's histories and achievements for schools/clubs/families celebrating reunions, anniversaries, birthdays and memorial occasions.
He has also completed several projects on behalf of various corporations and businesses documenting their history and operations as well as providing images for marketing and training.
Peter also donates time and materials to charities and not for profit organisations including Police Citizen's Youth Clubs of NSW, The Salvation Army and The Cancer Council of NSW.
Contact: fitzsnuggly@yahoo.com.au for further information